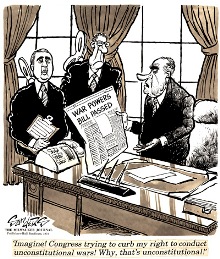 Acting with the impunity with which all presidents arm themselves, President Obama is set to violate the War Powers Resolution.
Today, Paul Findley said, "Just as with threats to attack Syria last year, an attack on Iraq would violate the Constitution and the War Powers Resolution. As with any president, he [President Obama] commits an impeachable offense if he does not follow the Constitution." Findley served as a member of United States House of Representatives for 22 years. He was a key author of the War Powers Resolution and a leader in securing its enactment by overriding the veto of President Richard Nixon. He is also the author of six books. The federal building in Springfield, Ill. is named for him.
Francis Boyle said, "This could escalate in any number of ways -- exactly what the War Powers Resolution was supposed to stop. It's not legitimate for the president -- or members of Congress -- to make arrangements that violate the Constitution and the War Powers Resolution. Obama just stated that the 300 U.S. troops would be doing training, but CNN reports his spokesperson Jay Carney stated they would also 'provide airfield management security and logistic support.' Does this mean that they will become the required forward air controllers for the targeted and precise military action that Obama says he is preparing? If the U.S. is going to target ISIS, will it be limited to Iraq or will it eventually go into Syria?" Boyle, who has worked with Findley for years, is a professor at the University of Illinois College of Law and author of Tackling America's Toughest Questions.